02. Logging on to Studioware
You can access Studioware by entering the username and password you selected on the Sign Up page and clicking on the "Logon" button. If you successfully log on, you will be directed to the Executive Overview page.
The Studioware Logon page appears as follows: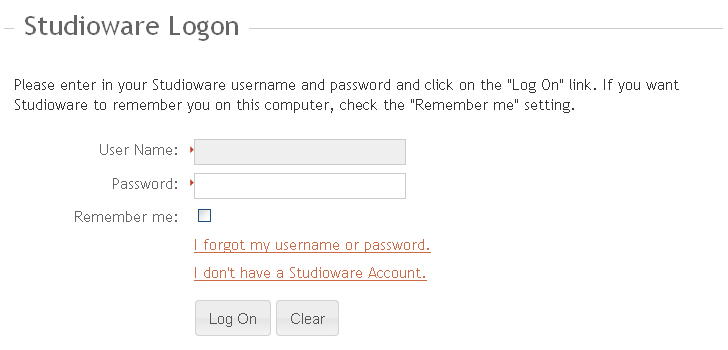 If you forgot your username or password, click on the "I forgot my username or password" link. You will be directed to a page that will allow you to enter your email address. Upon enter in your email address and clicking on the "Send" button, you Studioware account information will be emailed to you.
The remember me check box on the Studioware log on screen will save your username and password for future logons. That is, the next time you use Studioware and click on the log on link, you will be automatically signed in.
The "Remember Me" functionality is very convenient when you are logging on to Studioware from a computer at your office. However, Never use "Remember Me" when you are on a public computer. For example, if you are accessing Studioware from a computer at your public library, do NOT use the Remember Me setting.
Finally, if you see any additional messages on the log on screen, your browser may not meet the minimum requirements for Studioware. Please review the requirements and make the necessary adjustments.